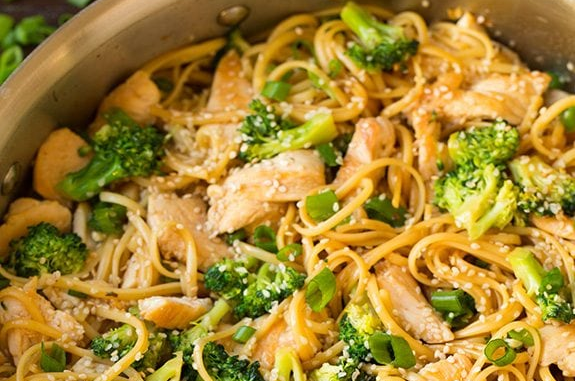 In a small mixing bowl whisk together soy sauce, honey, sesame oil, rice vinegar and sriracha, set aside.

Cook noodles according to directions on package, adding in broccoli during last 3 minutes of boiling (preferably time the noodles to be done about the same time the chicken is done), drain.

Heat canola oil in a large skillet over medium-high heat. Add chicken strips and cook until pieces are golden brown on bottom, about 3 minutes then rotate and cook 2 minutes longer, toss in garlic and ginger and cook 1 minute longer or until chicken has cooked through. Remove pan from heat and let pan cool about 15 seconds (so noodles don't instantly stick to pan and so sauce doesn't evaporate), then add noodles and broccoli, whisk sauce and pour over top. Return skillet to medium heat and cook and toss noodles until about half of the sauce has absorbed into pasta, about 30 seconds to 1 minute. Toss in green onions and sprinkle with sesame seeds. Serve warm.